The moon lit these statues, which provided a very mystical view. I just felt some really magical and ancient feeling. It was like entering another world, time travel to an ancient time. This was definitely creepy feeling.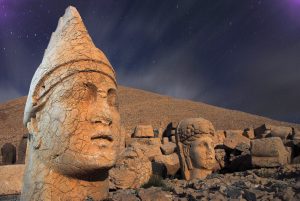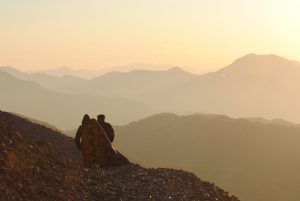 We set up the tent about 50 meters apart from these statues. In the morning it was worth to wake up so early, as the first thing I glanced was the meandering Euphrates lit by the dawn lights. We watched the sunrise besides the statues, as the sun shined everything with golden. We were crawling around the top of the mountain with those many Türks who ascended the mountain by cars to see the sunrise here. After the little trip we returned to the tent to have breakfast, but we were underfoot for the workers there. As it turned out that our tent stands in the middle of the gravel pile, we had to set down it immediately. As we moved a bit apart, they even involved us in the construction: they gave the wheelbarrow in our hand to take the gravel to its destination. We were staring at the workers how fast they can run permanently with the wheelbarrow at 2100m above sea level. Well, they had a break after an hour of work. And they were discussing and smoking an hour long! So that's the reason. Meanwhile two cows visited us. They were too curious so they came too close and slobbered all our stuff like they just did it on purpose. Then a worker brought the salvation for us and chased them away.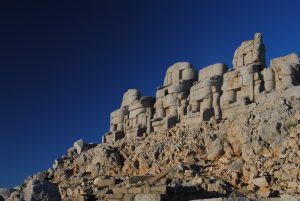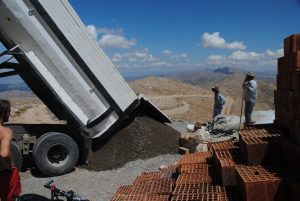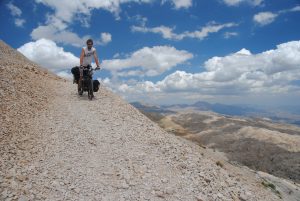 It was such a joy to descend the mountain. It was almost an hour joyride. This day was a rest day, so we did nothing but descending, lounging and eating.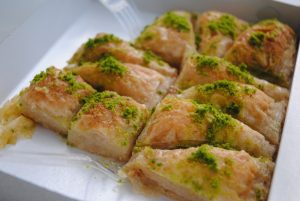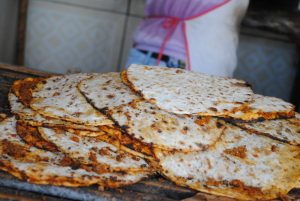 In the evening we used the "feribot" – written such in Turkish – to cross the river Euphrates. Yeah, Ferry Boat might be the origin of feribot. We were about to spend a beautiful bivouac night on the riverbank of Euphrates. But the weather balked our plan. So heavy wind resurrected, that all our gear and stuff was drifting in the direction of the river. So we decided to set up the tent to reserve our stuff. If we didn't holt the tent both, we couldn't have set it up. We put huge rocks on the side of the tent to stabilize it.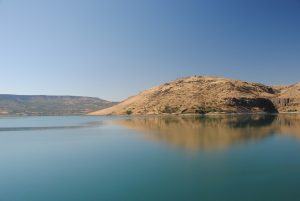 The morning was so calm, that it made me feel the night storm was just a dream. We didn't see a wave on the river. So we went for a swim, it was unmissable.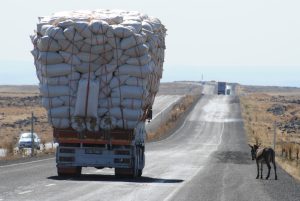 We were cycling in Kurdistan in the middle of the steppe as we became hungry and decided to have a meal in a tiny town called Bismil. We entered a street full of shops and markets. All the sellers were so curious and open-minded. They were smiley and asked about everything. Once I grabbed my camera, everyone wanted to see the pictures.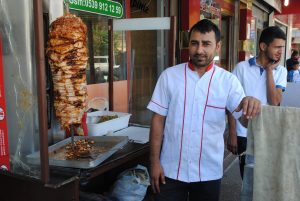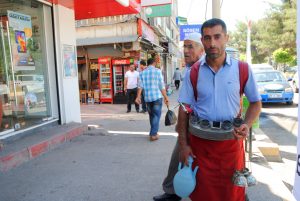 So we were quite popular! But when we ordered our delicious, prefect cylinder döner and started eating, everybody left us to eat in a peace. Except for the hairdresser salon's employee:
My friend, you need a haircut!
Really? Who are you?
My name is Mehmet, the master hairdresser here. Come in, I'll cut down your hair.
Allright, why not. Misi already wanted to try the hairdresser in Turkey.
We entered the salon, so Mehmet immediately started the work. First on, he wondered Misi's hair, while I was trying to get a CS host in Dogubayazit. Soon I got under the scissor, Mehmet managed a very thorough cut on me. He also shaved me entirely, and made a very strange face pack. It looked very ugly but it was very useful, because it helped my skin to refresh.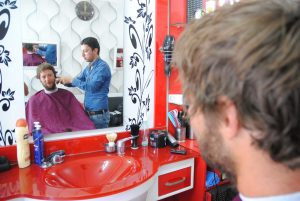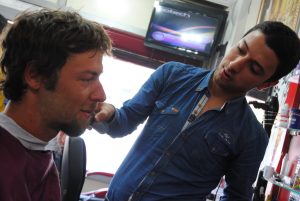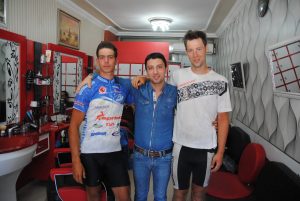 Mehmet advised us to eat one more döner, but buy now from a different seller, he does it better. He was right, we were really enjoying those 40 cm-long rolls. We also had a lovely invitation from Mehmet to his hometown, Mardin. Oh our heart was hurting, we knew that Mardin is a breathtaking ancient town on the side of Mezopotamia. Well we had to say no, as we had to hurry to Mont Ararat. We also invited Mehmet to Hungary, maybe he will have the opportunity once in his life.