On the day of departure we wished to watch the air ballons on the sky, which is absolutely a general thing in Cappadocia in the mornings. As we stepped out of Abdullah's cottage, we saw two balloons on the sky. We didn't know, whether they just started to take off or they have already finished. So we asked somebody and unfortunately we got the info that they flew earlier. So those two also reached the ground. We were a bit sad about it. At least, we saw entire Göreme, which was awesome. After a hard climb we left this fairy place, Cappadocia.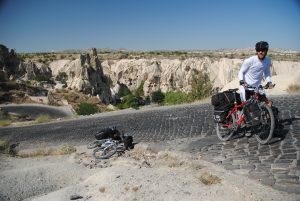 The next days we took the route D300, which crosses Anatolia in west-east direction. The route crosses the heart of Anatolia, the Toros Mountain Range. We cycled permanently over 1000 meter above sea level, had bath in lovely, cool mountain creeks to wash down the sweat after hard pass-climbs. There was a day when we went quite slow, couldn't accelerate over 16-17 km/h. It was a bit frustrating, as we had no headwind. That day in the evening we glanced a board which informed us that we reached a 1900m-high mountain pass. Allright, we climbed a thousand meter during the day. After sunset we set up our tent. Few minutes later an enormous sheep herd gathered around us. The shepherd also presented, and he became sooo enthusiast as I said some Turkish words. He spoke half-hour long.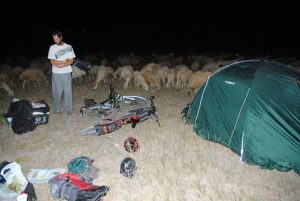 The route was boring, sometimes we didn't see settlements for hours long, there was no sign of civilization, only the infinite steppe.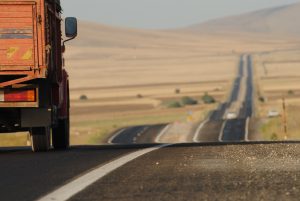 There was an evening when we couldn't find any tent places, because we rode in a valley full of settlements, couldn't get out of town. So we let us invite for a tea, as people were shouting "Cay cay!" everywhere. A man invited to a tea bar to have a couple cup of tea. During the conservation we had our bread-sausage dinner too. Our friend asked us where we'll sleep. As we couldn't answer correctly, he offered a place for us. He escorted us in an abandoned house, just above the tea bar. There was hotness inside! So we found out that there is a terrace, where we can sleep without getting melted. Before going to bed, we had a shower in the mosque's bathroom. Each cabin has its tap, so perfect for having a shower! It was really good.
Not like my struggle during the night: we just laid down on the terrace, where all the cigar smoke accumulated thanks to the shield over the tea bar. So we were real volunteer passivesmokers that night. Thanks God, the bar closed at 1 am. I thought finally I can have a good sleep, but the huge coaches roaring periodically on the highway next to us kept me awake and made me nervous and more nervous. To deepen it, the muezzin started singing at 3 am. THREE AM! It was the longest muadhin song I ever heard. It was terrible. I couldn't sleep 2 hours totally, it was equal to nothing. The next day I was a wreck. I took one picture (unlike the daily average 50) and I was fed up with the whole world.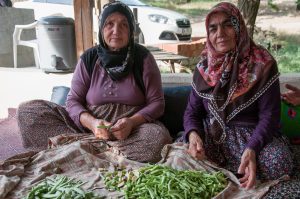 We kept on passing the mountain passes, but turned south after Malatya, left the D300 for the Mount Nemrut. Passes by passes, we kept the bikes on the steep road all the time. No flat surface. Just uphill and downhill. I had my first puncture on the trip besides Malatya. Furthermore I realized it only in the morning after I installed my bags on the bike. But well, nice performance, no flats till 2500 km.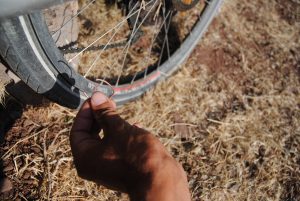 We ascended all the morning, but we had a beautiful view to the river Eufrates. After ascending almost one thousand meters, we dropped 1100. This downhill was like hell, full of adrenaline. We both rode over 90 km/h! Didn't hold back shouting. Allright, we continued riding in Mediterranean forests and descended in cool valleys full of roaring mountain rivers. Before sunset we could begin our final, more than 1000 m high ascent, heading the top of Nemrut Dağ. As we started the ascent, immediately tossed the anchors and started pushing the bikes. We also had a great thunderstorm, which was lovely, it washed off all our sweat. We reached flat road around 2000m. We thought that the end is very close. It was a bit unsophisticated thought. The sunset was amazing from that elevation!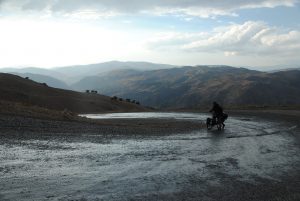 Soon we reached a hotel where Misi's bike dropped the front bags again due to road pits. So we stopped. Some hotel employee informed us that the mountain has already closed for visitors. We should stay and go up next day. He also offered us to camp next to the hotel. We calmed him down that we wouldn't start ascending at night, we'll do it then in the morning. So we started to shift our clothes and imitate setting up our camp. And when nobody saw us, we got away in the moonlight. Yeah we really started ascension. It was a good dirtroad, but quite steep, so we pushed the bikes again. This way we could spare the price of admission, as the guard's cabin was empty. After three quarter hour of pushing, we reached the top and enjoyed the present of our hard job: the breathtaking view of the commagene culture's heritage: the 2000 year-old statues shined by the moonlight.