Istanbul has thousands of faces. It seems quite intact, not that tourist fitted city. The locals kept its original form. Even in the tourist ghetto, Sultanahmet: there are abandoned little streets which look genuine. During the years the Türks experienced the art of buggering tourists around. Once we couldn't shift off a random street seller who wanted to foist some perfumes. I applied the nodding tactics, maybe he gets bored and away. But he didn't stop jawing! You can't shift it off till you turn your back and get away without a word.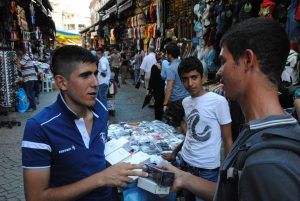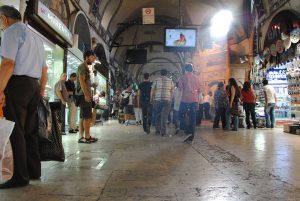 We practiced bargaining a lot during our stay in the Roofed Bazaar, or on its common name Grand Bazaar. Then in the market nearby I found a T-shirt which I wanted to purchase. Chewing our delicious pistachios we entered the shop and started bargaining. The shopkeeper was a very very young kid. I pointed the item I wanted to buy, then the guy picked out a size M of it.
I give you 5 Liras – told him, but I wasn't serious about it. For a bargain base it's OK
Are you kidding me, man? It worth 25.
You're kidding. The most I give for this T-shirt is 10.
You might take it for 20 but no way for 10.
Now I got my other T-shirt for 10 Liras in the Grand Bazaar.
There? You're fooling me around. Give me pistachios!
Take that! – he picked some pieces
Okay, let it be 15 – he liked the pistachios
No, I stick to the 10 Liras.
Gimme some more pistachios, then it's 12.
Damn! Are you screwing around with that 2 Liras? Take as much as u want.
Okay, 10 Liras. Take that!
Finally I reached the desired price, I liked it. He packed the T-shirt and commented again:
Okay, 11 Liras.
Here you are 10 Liras and some extra pistachios. Thanks, Cheers, Bye!
I don't like u!
We skipped off quickly and laughed in ourselves, but we got a whole load of pistachios shells in our neck and heard him shouting:
We snickered on it, was so funny. It was such a good deal, we don't mind the pistachios shells.
Shooting portraits in Istanbul was easy as 1,2,3. At home or generally in Europe the convention is that the photographer asks people if he can take a portrait. Well here people ask you to take photos of themselves. Then you can hit the road and creat a whole portfolio. Fortunately Misi had a 50 mil so we could take nice shots.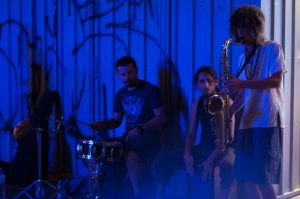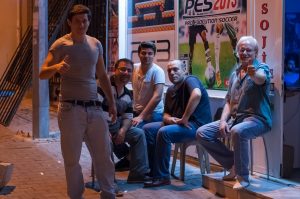 The greatest wonder we saw during the three days was the panorama from Galata tower, when the sunset painted the whole city in gold. We spent two whole hours on the top of the tower, where the guards had to kick our ass to let us down at closure time.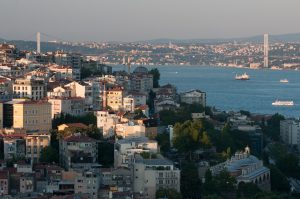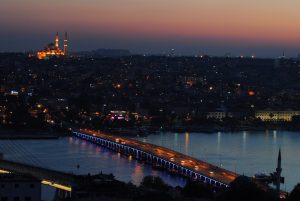 We could use our beneficial press card several places and could spare significiant amount of money. We got our Aya Sofia entrance ticket with a stamp "PRESS". And additionally it was for free.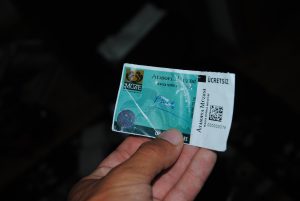 We arrived at the Blue Mosque in late evening, when the evening prayers started.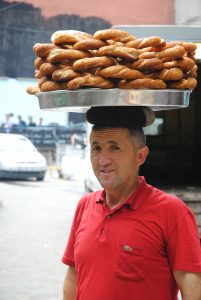 This time the mosque is closed for visitors. We wilted hearing this info, as we really wanted to see the inside. But the guards standing at the entrance drew our attention to the Ramadan presentation and dinner at the side building of the Blue Mosque. The didn't have to remind us, we headed immediately to this side building as the dinner was cost free. So we sat in the room and listened to the interesting presentation. We acknowledged that Ramadan is a moving festival, and believer people fast all day during its period. No, you can't eat, drink, smoke, have sex and listen to music at daytime. Can't be easy!
After the presentation, all of us got a vapid box, which we could open at the first word of the Müezzin. Well, nice job, our Türk friends composed such a nice dish for us. These boxes are distributed all around the city for the needy people, as we saw later, on our way home. Here people really help poor people  as it is required in Kuran.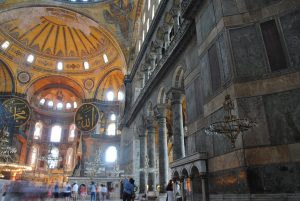 Last day we hanged out again in Sultanahmet, where Misi saw a nice skirt in a storefront. He wanted to buy it as a present for his fiancée. In the street we found a seller and immediately asked what's the price for it. Both of us understood sixteen Liras. We even asked: Sixty or sixteen? Well the guy validated sixteen. Allright, it's a cheap shop, let's look around. I tried a complete sultan dress, which fitted foxy. After having fun with these clothes, we purchased the skirt. We gave them a 50 banknote. They asked for further 10. We looked at each other, as the skirt was 16.
No way, we can't give it for that cheap. Maybe for 50.
Hey guys you told us 16 outside the shop.
No it can't be.
Okay then we don't buy anything.
I don't think it's a good business trick, we didn't buy anything there.
The afternoon program was cooking Hungarian gulyás soup for our kind host. Well we didn't get all the appropriate ingredient as celery and parsley, but despite it tasted fine! At home we used to prepare it of pork meat but beef was the same delicious in it. Çaglar and his brother Çagdaş loved the soup. I don't remember how many times they repeated. During lunch the Unicum also filled the glasses, so we drank some hungaricum as well. Çaglar brought it from Budapest during the spring. He didn't find it so tasty so he foisted it us. In the evening we just packed, as we couldn't afford staying more, as Asia was waiting for us.