Bulgarian hospitality smiled on us as we arrived at the city of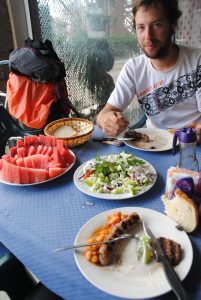 Panagyurishte. We felt like having an abundant meal after the morning pass-climbing. We deserved it, so we entered in a fancy restaurant this time. The menu today: kebab and salad with mozzarella. We ordered three kebabs but we got 4. It made us absolutely satiated, but after that the waiter offered us a whole watermelon. Oh no, we truly can't eat that, so we refused. Despite of it, the waiter returned with a huge watermelon, and gave us as a present.
Meanwhile, we met the neighbour car washer guy who became a friend of us. While he was working around the cars, he let us to use his tablet, which was able to present the couchsurfing and warmshowers websites appropriately, not like Misi's mobile. This guy was so unselfish, that we could use his tablet 2 hours long. I asked him whether I should give him back, but every time refused. After lunch we had a super gliding experience. It was a joy: we didn't have to spin a lot as we descended continuously towards Maritsa Valley, and we also had a tailwind. Also we could see the panorama of the whole mountain range Rodope.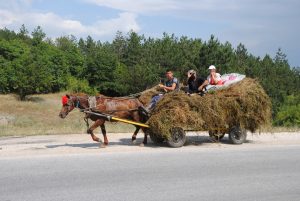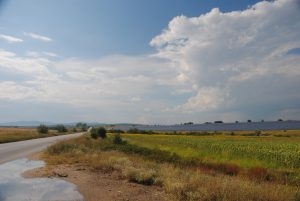 Unfortunately we skipped the capital, Sofia, but we had the possibility to visit the most beautiful city of the eastern part of the country.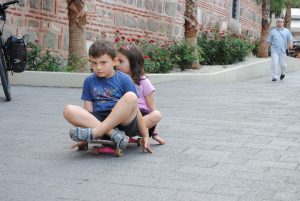 We made our best to see the most sights in Plovdiv. Actually, we spent the whole morning with sightseeing. This was our first time to meet compatriots: the couple was heading the Black Sea coast, and they stopped in Plovdiv for a while. It was lovely to speak in Hungarian.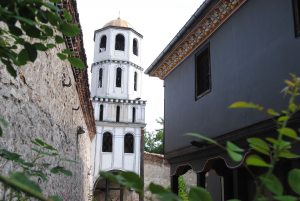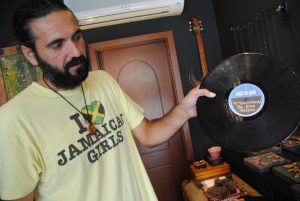 They were entirely amazed by our statement that we arrived here by bicycle, all the way long from Hungary. They handled us as stars, who can be on the TV screen. They had a bit easier way for sightseeing, as they didn't have to push the bikes all the way long during sightseeing. We tried to put down the cycles in some inspected places, like in guarded park lots, but nobody let us to do so. We ended up in a little backpacker hostel, where they asked us to pay 5 Levas for bike reserving, but we didn't like this idea. As we wanted to leave the place, they finally allowed us to leave them for free. Good business! The sightseeing was much more delightful this way. I'm not a big fan of city tours as I always want to get to the nature. But well, it was fine. The most interesting part was the market with its authentic order and ambience. We also visited the amphitheatre, where we didn't pay a Stotinka.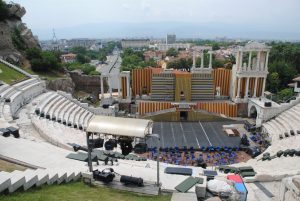 Of course, in this case the press card was quite beneficial. It's a great advantage from the university photo club, where we have to pay less than 2 Euros for this card yearly.

We finished the sightseeing tour at noon, and we had the whole day distance in our neck. The traffic was nerve wrecking, I became nervous in the first hour of cycling due to the noise. The funny thing is, there is no one meter of motorway from Plovdiv to the Turkish border, and the whole traffic is crowded in the two-lane principal road. All the Turkish migrant wo lives in Europe, uses this road. Especially this time, as it's holiday time for all Turks and they are hurrying home.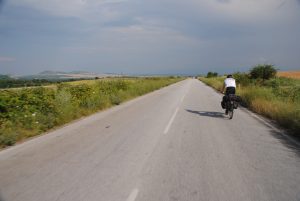 Literally hurrying, and racing by the German car industry's models to reach the border as soon as possible. They all know that queue is very long there.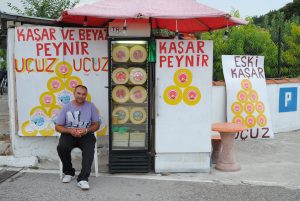 After about 150 km ride we started to camp again in the middle of a general field. As I was preparing our soup laying on my mattress, I heard some noise very close to my right shoulder. I checked out, what it could be.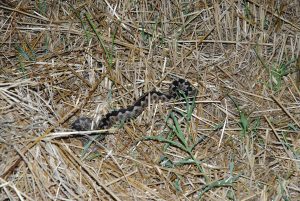 WHooaaaAA the shit stopped in me, it was a snake, sliding slowly next to me. I didn't move fast, just shouted at Misi. He also checked it, but he calmed me down with saying "it's not venomous, dude". We took a photo of it, to identify what it could be. Soon I gave up doing bivouac, despite there was no mosquito around us.